YouTube/Impulse CC
YouTube/Impulse CC
Warning: NSFW language.
So, this guy was at a friend's house on the couch, completely unaware that the third guy there was recording on a tip that a beatdown and a serious talking to was about to happen.
RELATED:  If your arm's in a sling, maybe you should try staying out of a full-on spring break brawl
His friend walks in guns blazing and delivers a sucker punch right to the nose, then a couple more shots to the face.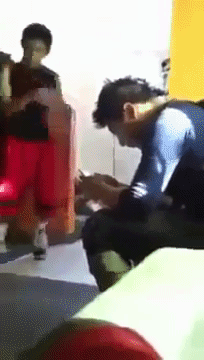 "Want to go to jail? You want to go to jail? Or you want be to beat your ass? Which one you want?" the older brother asks. "You think I didn't see those messages."
"Those messages" were apparently requests for nude pictures from angry brother's little sister, who, considering the threats of jail, was underage.
"What would you do if that happened to your daughter?" he asks."Get the f**k out of my couches."
While he was at it, he took the would-be sexter's phone and money.
"Can I have my money at least?" is met with a flat-out "no."
RELATED: One-legged bathroom brawler responds to getting rocked in the face with one of the most aggressive comebacks of all time
"What'd you catch me off guard for?" the bleeding guy asks.
"You got me off guard, n—-, when you were talking to my sister on Facebook […] asking her for fucking pictures and shit," the brother responds. "You want to see the proof and then you want me to beat your ass again?"
Clearly, he didn't want to see the proof. He got up and left.
(H/t BroBible)